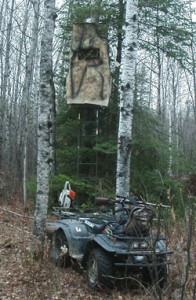 We offer Rifle, Bow, and Blackpowder hunts from early October to mid November.
2013 Deer Hunting Season
Non-Resident Deer Hunting season Opens Sept. to November 15.
Deer Archery Only – September 1, 2013
Deer Muzzle Loader – September 28, 2013
Deer Rifle – October 5, 2013
You can hunt one of three ways:
ground blind
still hunting
or what we highly recommend, an all enclosed tree stand (heated if necessary)
Hunting in one area will maximize your chance of shooting a trophy Whitetail.
We take 6 hunters per/week only. This is to maximize your quality of hunt and not over harvest.
We provide 1 guide per 2 hunters.
Hunting Package Includes:
transportation to and from tree stand
three meals per day
field dressing, caping of deer (if desired)
Not included:
important information, importing guns and more (click link below)
license fee (click link below and follow the directions)
export permit

One must purchase a non-resident export permit which is $35.00 Canadian in order to bring your whitetail deer across to the US. The export permits are available in Fort Frances and Rainy River.  Our Local Ministry of Natural Resources phone number in Fort Frances is (807) 274 – 5337.

air fare or rented vehicles (if required)
gun registry fee at Canadian Customs
Booking Terms: (USD)
An initial 20% deposit is required up front, with the remainder to be paid upon arrival.
All deposits are non-refundable (may be transferred to another hunter).
Brochure: to download and print click link | whitetail fever brochure |
Our rates are very competitive, Contact us for our rate information.