Contact Details
(807) 852-4657
(807) 276-7523
Email Us: info@whitetailfeveroutfitters.com
whitetailfever@hotmail.com
Box 8, #124 Fireroad
Hwy #621, RR #1
Sleeman ON,
POW 1MO.
Location:
We are located in Northwestern Ontario (bordering Manitoba and Minnesota) with thousands of acres of hunting land at our finger tips.
This area is considered some of the best whitetail hunting grounds in the whole country.
We are located in the middle of prime hunting area.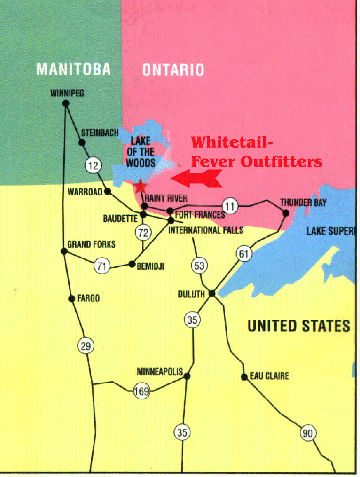 Distance in miles from….
Minneapolis – 345
Milwaukee – 622
Indianapolis – 940
St. Louis – 920
Chicago – 720
Duluth – 100
Kansas City – 780
Winnipeg – 180